Photo Credit: Photo of man by Krakenimages.com, and photo of SUVs by Konstantin. Both via Adobe Stock.
Utilizing Audi's platform, Lamborghini can create a high-quality SUV that offers the Lamborghini driving experience without the impracticality of a supercar.
Why is there a Lamborghini SUV? It is a fair question.
Lamborghini has always been synonymous with performance, design, and the quintessential supercar experience. For decades, these raging bulls were the definition of impracticality; Lambos were a pure celebration of speed where practical concerns were a distant afterthought.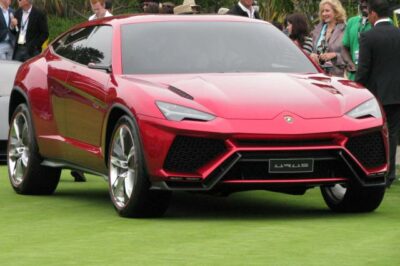 Lamborghini is a brand that built its reputation on low-slung 2 door coupes with barely any storage space. So, it seemed odd when Lamborghini unveiled an SUV at the 2012 Bejing Auto Show. It became a production model in late 2017 for the 2018 model year. Moreover, It featured a twin-turbo V8 and not a V12, the engine the brand is known for.
Sure, Lamborghini had made an SUV in the past. But the LM002 was a Hummer-like truck with the Lambo V12. It was over-the-top, impractical, gas-guzzling, and excessive, like the supercars.
Purists might lament a soccer-mom SUV in the Lamborghini lineup. Even regular folks wonder why Lamborghini makes an SUV.
But there's no denying that the Lamborghini Urus has successfully carved out its niche with the sales numbers to prove it. The Urus is the best-selling Lamborghini model – ever.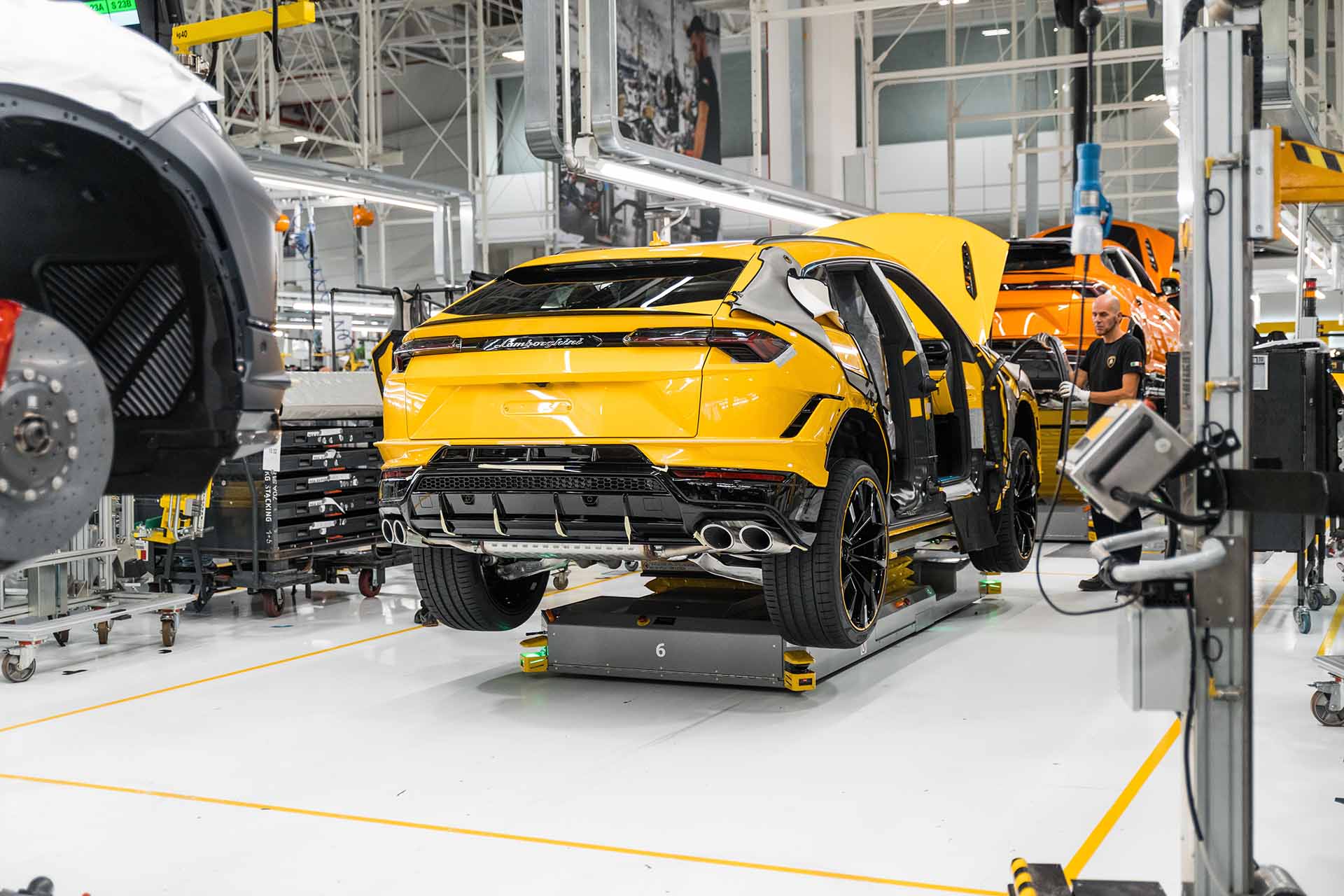 "Lamborghini is celebrating another outstanding record with the Super SUV Urus, which establishes itself as the biggest selling model in the lowest period of time ever with a good 20,000 units in 4 years," says a Lamborghini spokesperson on their news site.
The Urus is a Lamborghini that accelerates and takes corners fast enough to get your blood pumping in between school runs and grocery pickups.
Why does Lamborghini make an SUV?
Lamborghini makes an SUV because they can make a profitable and safe SUV using Audi's existing platform, and they can offer the Lamborghini experience to buyers who want performance and luxury but need practicality and all-road versatility.
Lamborghini can make an SUV simply and profitably by using the Audi SUV platform.
Volkswagen AG owns Lamborghini and is part of the Audi Group.
The Lamborghini Urus SUV is made from the chassis and many of the same parts as the Audi RS Q8. Both cars use the MLB Evo platform.
Combining research and development and sharing parts allows Audi to pay off its investment in tooling and development faster and save money on manufacturing with economies of scale.
Platform sharing also results in safer and better-performing vehicles because engineers can invest their time in a platform of many vehicles rather than developing one vehicle at a time.
Cars and SUVs that use the Audi's MLB Evo platform:
Audi A4
Audi A5
Audi A6
Audi A7
Audi A8
Audi Q5
Audi Q7
Audi Q8
Audi e-tron
Bentley Bentayga
Porsche Cayenne
Lamborghini Urus
VW Touareg
All cars on the MLB Evo platform share engine mounts, front wheel placement, firewall, and windshield frame. All other aspects of the SUV can be as similar or different to other SUVs as the designers and engineers see fit. For example, an SUV like the Urus may use a tight steering rack for a sportier feel. This results in the cars and SUVs having much different styling and driving feel than each other.
It is challenging for automakers to develop a safe chassis and expensive to do the crash tests required to be certified for the road. Audi has invested a lot of R&D into their platforms. When Audi engineers use the MLB Evo platform, they know it will pass safety tests with flying colors.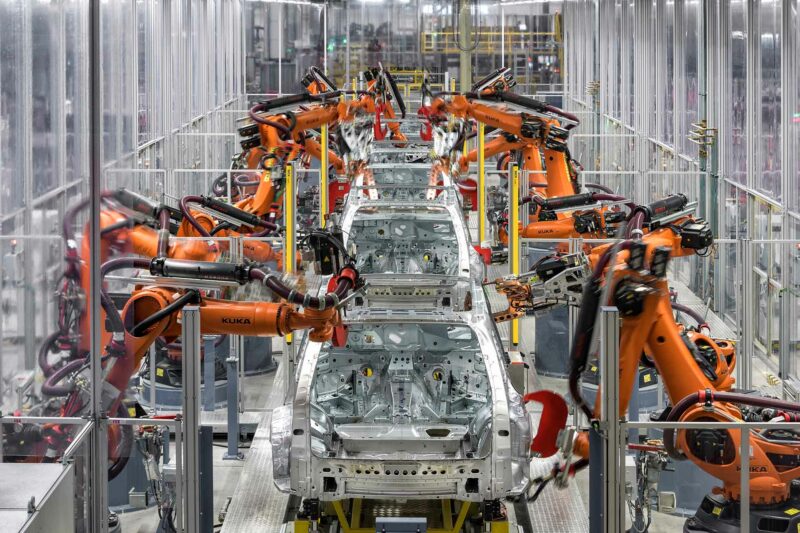 The Urus isn't the only Lamborghini to share a platform with an Audi. The Huracán shares a platform with the Audi R8 V10. The Gallardo previously shared a platform with the original Audi R8.
Lamborghini struggled with safety and profitability for decades before Audi / Volkswagen AG purchased them. The business plan to save Lamborghini always included platform sharing.
Exotic car buyers from around the world demand SUVs.
People worldwide want to experience the prestige and driving experience that come from Lamborghini, but supercars might not be the most practical option due to road conditions or lifestyle preferences.
For example, high-end buyers from India would like to own supercars but worry they will get damaged by the bumpy and rough roads. The Urus accounts for more than half of all Lamborghini sales in India.
In Canada (where I live), the Lamborghini Urus makes rational sense over a traditional Lamborghini. An SUV can handle Canada's harsh winters, heavy snowfalls, and challenging road conditions. While a supercar is designed for optimal performance on smooth asphalt, its low ground clearance and performance-oriented tires can be a limitation in snowy or icy conditions. Canadians can drive the Urus year-round, whereas a supercar like the Huracán or Revuelto.
If Lamborghini did not make an SUV, then other prestige brands would, and Lamborghini would lose out. Mercedes, Range Rover, Aston Martin, and Bentley make competitive products. Even Ferrari succumbed and now makes a practical 4-door: the Purosangue.
Check This Out: Supersportiva compared the prices of the prestige SUVs to answer if the Urus us truly expensive.
High-end luxury buyers are unwilling to sacrifice practicality for their speed and prestige.
High-end luxury buyers increasingly gravitate towards SUVs and large cars because they offer functionality while being fast and prestigious.
Porsche shocked automotive enthusiasts when they started producing the Cayenne, their SUV. But the Cayenne saved Porsche; the 911 was not keeping Porsche afloat, so they bolstered the lineup with the Boxster but realized they needed to go further with a vehicle that could move a whole family. They decided on an SUV with a real off-road pedigree.
Sales were explosive. "Originally, it was expected that 25,000 examples would be delivered each year," according to Porsche. "In the eight model years of the first generation, 276,652 cars were sold – just under 35,000 vehicles per year."
The Cayenne's success not only bolstered Porsche's financial position but also paved the way for other luxury sports car manufacturers to make SUVs. There was a market opportunity to get people into Lamborghini, even if it wasn't a supercar.
Affluent buyers who would consider a Porsche Cayenne or Lamborghini Urus seek the status, performance, and comfort. They also want versatility, space for passengers and cargo, a practical driving position, and better safety.
Whereas the purist supercar buyer is willing to put up with the quirks of supercar ownership (low driving position, stiff suspension, no storage, etc.), this new market of high-end luxury SUV buyers wants the driving experience and prestige of an exotic vehicle without the drawbacks.
For example, Dr. Mike Varshavski, of Doctor Mike YouTube fame, had to hire an Uber for his girlfriend's luggage because he could not fit the large bag in his Audi R8. Dr Mike now drives a Lamborghini Urus; he would not have that problem today.
Lamborghini Urus buyers often return to the dealership and buy a supercar as their second car.
Luxury performance SUVs often are the gateway for customers into exotic brands like Lamborghini.
Acting as an introductory piece to the world of Lamborghini, the Urus offers a compelling blend of luxury, daily usability, and performance that encapsulates the brand's DNA in a vehicle with broad appeal.

The Urus gives buyers a taste of the Lamborghini ethos—a meticulous fusion of Italian craftsmanship, aggressive styling, and raw performance. This initial immersion often fuels a deeper appreciation and craving for the brand's purebred adrenaline machines.
Consequently, many Urus owners return to Lamborghini dealerships to intrigued by the no-compromise thrill of a Lamborghini supercar, making it their alternate vehicle – a toy in the garage that they can take out on weekends, for car shows, and track days.
Conclusion
In sum, Lamborghini's venture into the SUV market is a shrewd blend of business acumen and evolving consumer demands. Leveraging Audi's robust platform, they've crafted an SUV that encapsulates profitability and safety.
More importantly, the Urus allows Lamborghini to extend its exhilarating performance and luxury appeal to those need everyday practicality and all-road adaptability.