Photo provided by the Lamborghini Media Center.
Get ready for the future. The Revuelto is a hybrid supercar replaces the Aventador.
Performance
Quarter Mile
9.3 s @ 150 mph**
Top Speed
235 mph**
(378 km/h)
* Manufacturer's estimate. ** SuperSportiva's estimate
About the Revuelto
The Aventador, one of Lamborghini's most iconic supercars, is now replaced by the highly anticipated model codenamed LB744. We now know the this model as the Revuelto – Lamborghini's highest performance production model for the next decade.
The Revuelto is the first fully hybrid supercar from Lamborghini. The technology builds on the Sián, which was a mild hybrid. Lamborghini executives promise the Revuelto's tech will take acceleration and road holding to another level.
The supercarcar feature a 6.5L V12 engine with an electric motor powered by LiON batteries making a combined 1015 hp.
The Revuelto is a plug-in hybrid (PHEV) so it can be driven silently on full electric power. It is far more efficient. Reducing noise, fuel consumption, and carbon dioxide emissions will help keep the supercar pass all regulations foreseeable within its ten-year model life expectancy.
Model Information
| | |
| --- | --- |
| First Model Year | 2023 |
| Last Model Year | N/A |
| Engine Type | Hybrid V12 |
| Induction | Naturally aspirated |
| Drivetrain | AWD |
| Layout | Mid-engine |
| Engine Orientation | Longitudinal |
| Body Style | Coupé |
| Number of Doors | 2 |
| Number of Seats | 2 |
| Front Suspension | Double Wishbone |
| Rear Suspension | Double Wishbone |
| Steering Type | Rack and pinion |
Video
Photos of the Revuelto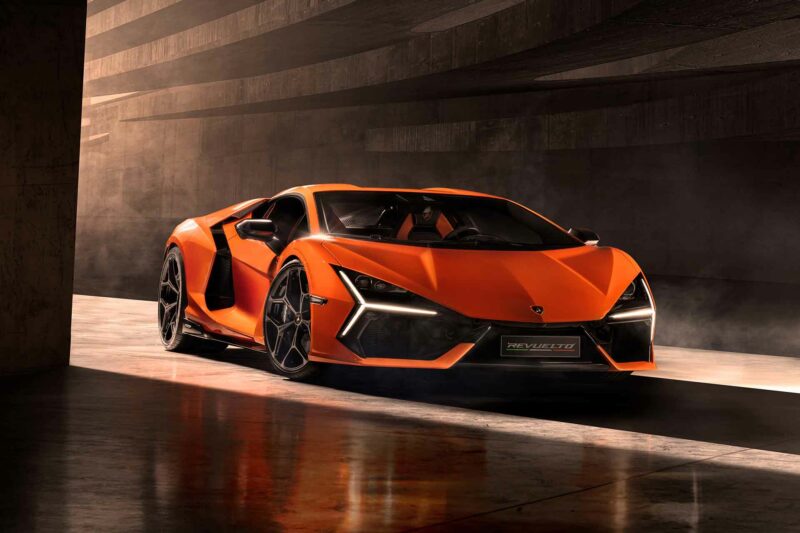 Design Process To Create the Lamborghini Revuelto