Photo by Detectandpreserve via Wikipedia
The Lamborghini Truck! Adapted from the plans for a military vehicle, the LM002 was the first and last Lambo with a truck bed.
About the LM002
The Lamborghini LM0002 is affectionately called the "Rambo Lambo."
Together, Lamborghini and Mobility Technology International (MTI) made two concept vehicles, the Cheetah and LM001, which were mid-engined trucks meant for military service, but were not well received. They moved the engine to the front and Lamborghini offered the LM002 to the public.
The truck was sold alongside the Lamborghini Countach. Both vehicles had a tubular space frame construction and the same V12 engine.
Lamborghini did not make another truck for years. Recently, Lamborghini started offering their 2nd SUV, the Urus.
Model Information
| | |
| --- | --- |
| First Model Year | 1986 |
| Last Model Year | 1993 |
| Engine Type | V12 |
| Induction | Naturally aspirated |
| Drivetrain | AWD |
| Layout | Front-engine |
| Engine Orientation | Longitudinal |
| Body Style | Truck |
| Number of Doors | 4 |
| Number of Seats | 4 |
| Front Suspension | Double Wishbone |
| Rear Suspension | Double Wishbone, Double Shock and Spring |
Video
LM002 Trivia
The Lamborghini LM002 is the only Lambo to have an alphanumeric name, and one of the few Lamborghinis not to be named after a Spanish term from bullfighting.
Lamborghini LM002 in Media
Movies
Fast & Furious (2009)
The villain, Braga, in Fast & Furious is driven in a black Lamborghini LM002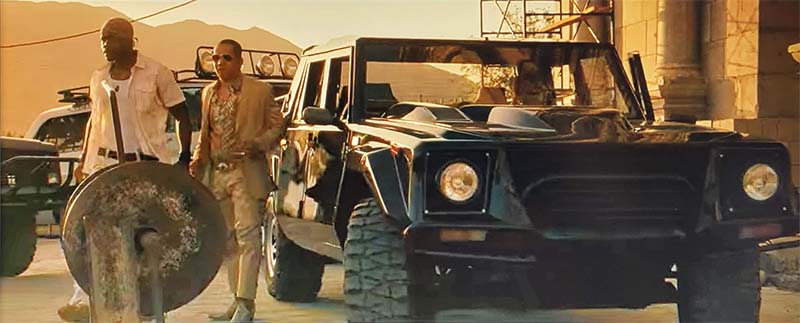 Learn about what other Lamborghinis feature in movies.