Feature Image by Vetatur Fumare via Flickr. Modified by Colin Finkle. Creative Commons Liscense CC BY-SA 2.0 DEED
Lamborghini stopped making the Murciélago in 2011 to start making the Aventador. It was time for something new.
Unfortunately, Lamborghini does not make the Murciélago anymore.
Although it looks modern, it is not a new car. The last Murciélago was made in 2010.
Lamborghini replaced the Murciélago in their product line and factory with the Aventador. Now, the Aventador has been replaced with the Revuelto.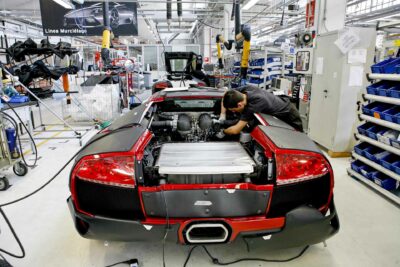 The Lamborghini factory in Sant'Agata Bolognese, Italy, has one production line for a V12 supercar model. The facility and workers also make a handful of limited-run hypercars based on the same platform. The V10 supercar and SUV models are produced at Audi factories.
Related: Do all Lamborghinis have V12 engines?
The Lamborghini factory retools to produce a new design every decade or so. The Murciélago was made between 2002 and 2010, so it was due for a refresh.
Lamborghini engineers were eager to switch from steel spaceframe construction (as in the Murciélago) to a carbon fiber monocoque (as in the Aventador) to save weight and increase rigidity.
The manual transmission died for Lamborghini with the Murciélago.
The Lamborghini Murciélago was the last Lambo to come with a manual transmission.
All of the supercars and hypercars since have used dual-clutch transmission.
Both manual and dual-clutch transmissions employ gearsets and shafts to control the power transfer from the engine to the wheels. Both systems utilize a set of gears and clutches to engage and disengage different gear ratios, allowing the vehicle to achieve various speeds and adapt to changing driving conditions.
Related: Gated Manual Transmissions – the ultimate supercar driving experience.
In a manual transmission, the driver manually engages and disengages the power to the gears using a clutch pedal and physically changes the gears with a shifter. A dual-clutch transmission utilizes a pair of electronically controlled clutches and actuators to move between gears automatically. The electronically controlled shifts are faster and smoother than manual gear shifts, and the driver does not need to worry about engaging the clutch between gears.
What replaced the Lamborghini Murciélago?
The Lamborghini Aventador replaced the Murciélago.
When did Lamborghini stop making the Murciélago?
The Lamborghini Murciélago stopped production in 2010.
Is the Lamborghini Aventador better than the Murciélago?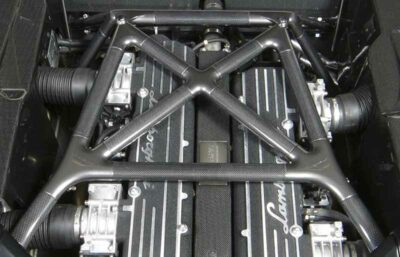 The Lamborghini Aventador has more up-to-date technology, particularly a carbon fiber monocoque chassis, and is faster than the Murciélago in acceleration, handling, and top speed. The Murciélago is held back by its steel space frame's strength-to-weight ratio.
Learn about the difference between the Murciélago and the Gallardo in our article comparing the two.
Learn more about the Murciélago
Check out our comprehensive listing of the Lamborghini Murciélago.