Yes, there are Lamborghini police cars. Police Departments like the Italian State Police use Lambos as police cars while others like the Metropolitan Police Service dress them as police cars for show.
Some Lamborghinis are used for police duties, while others are for public relations, being displayed at stations, and attending events.
These are Lamborghini vehicles owned and modified for service by police services. We are not talking about cars dressed up as police cars; some private Lamborghini owners and dealerships will dress their car up as a police car for a rally or event.
Some of these Lamborghini police cars come to the police department through the controversial Civil Asset Forfeiture legal process. Forfeiture is the legal tool cops have to take things they have reason to believe were used to commit a crime or purchased with the profits of a crime.
Police Departments with Lamborghini Police Cars
The Italian State Police has a Lamborghini Huracán.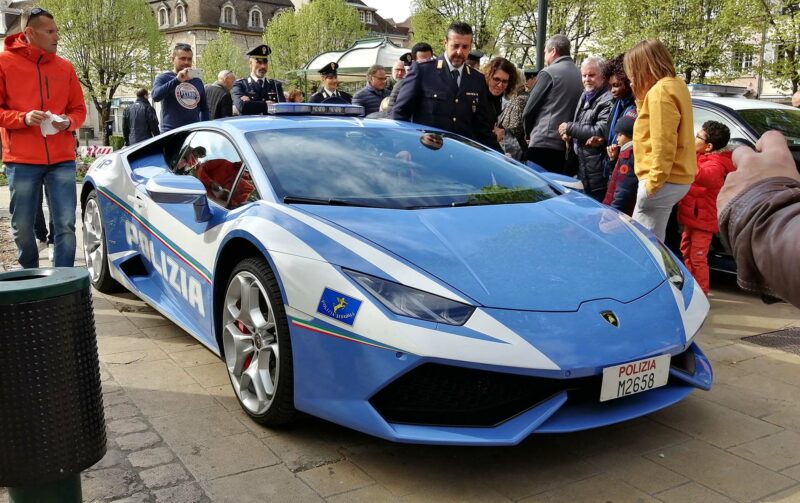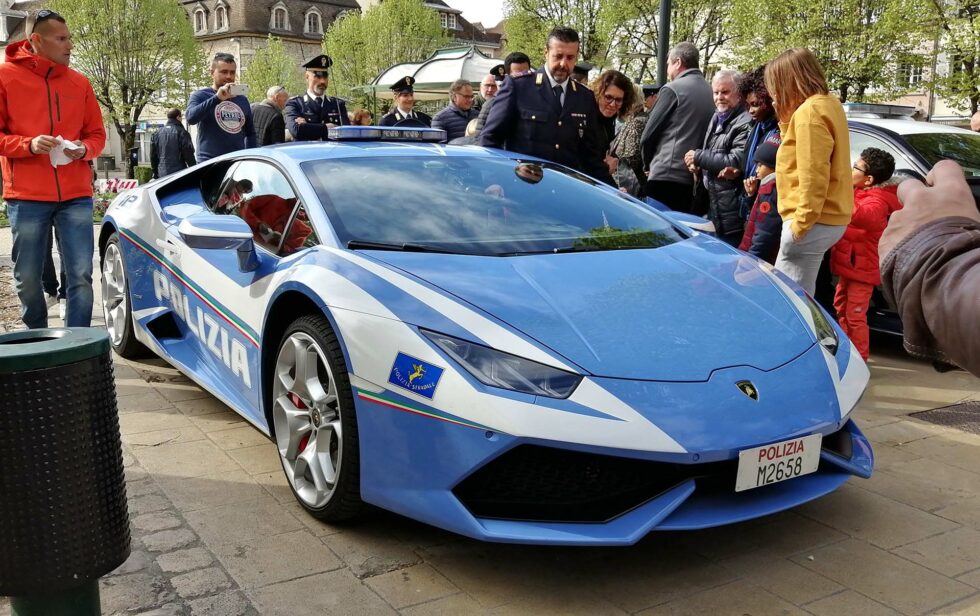 In March of 2017, Lamborghini delivered a police car to the Polizia di Stato or the Italian Highway Patrol in Rome. Thankfully, this supercar wasn't ill-fated to be a PR showpiece as many other departments use their Lambos: parked in the police headquarters lobby, only to be rolled out for events. The police department planned to use the car to catch speeders on the highway near Bologna with its 202 mph (325 km/h) top speed.
Lamborghini called it the Huracán Polizia; the car was a donation to the police. The factory modified the Huracán for police work; beyond the obvious sky blue paint with police livery and lightbar on the roof, other modifications were made for service, such as a gun holster, fire extinguisher, and VHF radio.
It also featured a defibrillator in the trunk and a refrigeration system to transport donor organs to Italian hospitals. It made one of those delivery runs from Rome to Padua, making the 303 mile (489 km) trip in only two hours.
Hopefully, this Huracán will be luckier and not share the fate of the next Lamborghini police car we talk about.
The Italian State Police had two Lamborghini Gallardos but crashed one of the super police cars.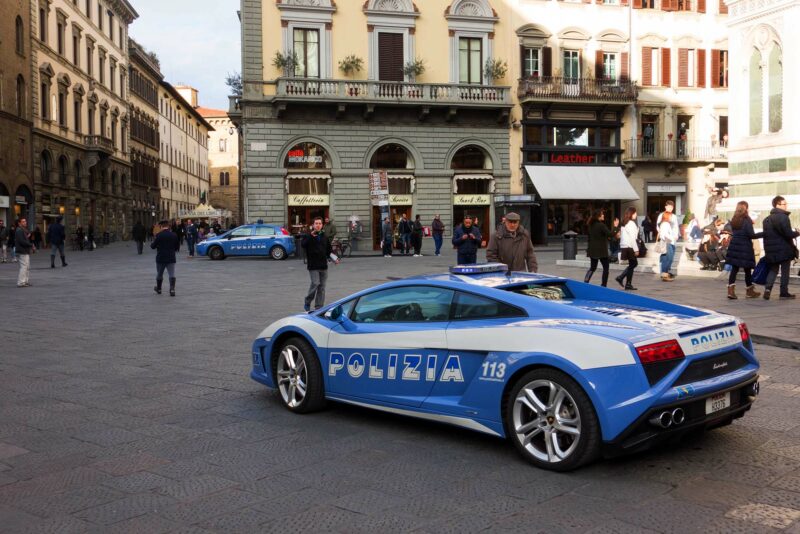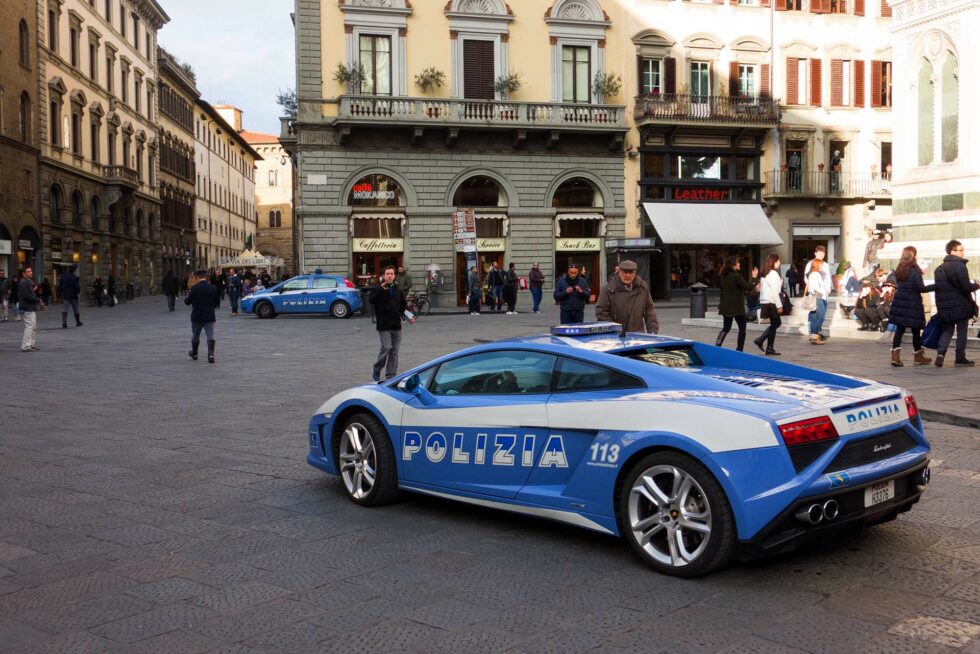 In Italy, the highway patrol unit had a Lamborghini police car before the Huracán. A Lamborghini Gallardo LP560-4 was modified similarly as the Huracán: gun holster, police radio, emergency vehicle lighting, cold storage, and a defibrillator.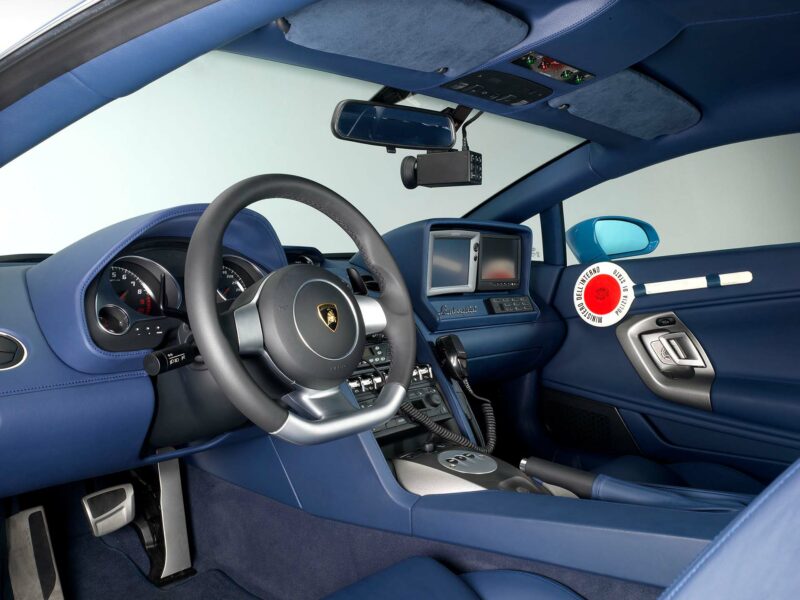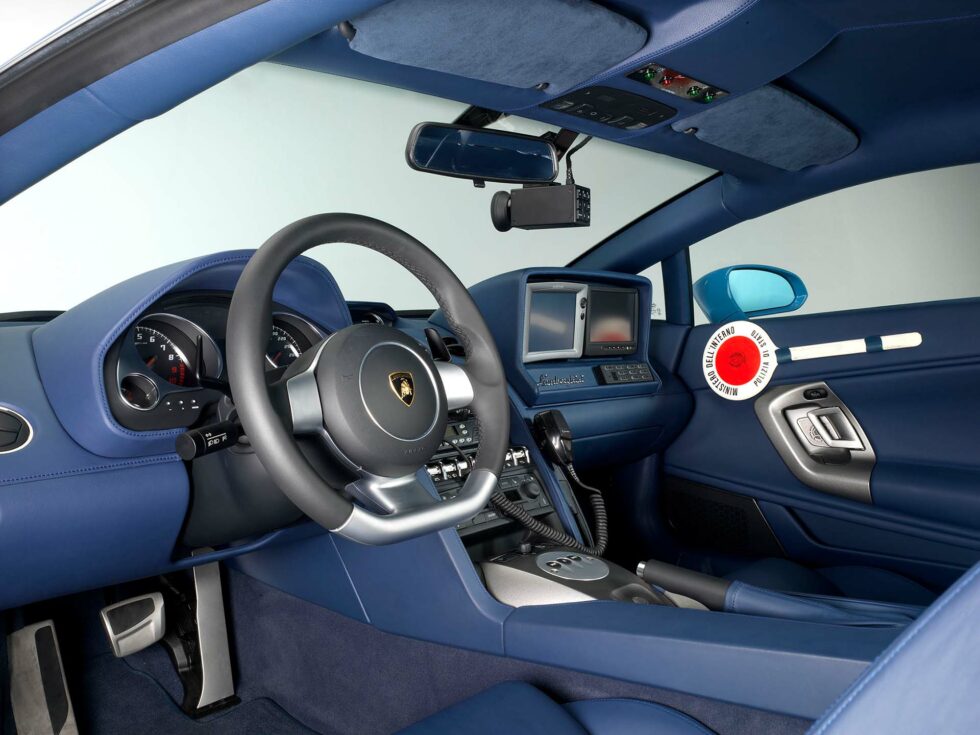 One of the cars was gifted to the Polizia for its 152nd anniversary by Lamborghini SPA. Lamborghini was happy to see the cars they donated get some use. The Polizia di Stato had two Lamborghinis Gallardos and used them both regularly. One car wracked up over 140,000 km and the other over 100,000 km.
Unfortunately, one of the Gallardos was wrecked in a crash. A police officer drove the supercar into a row of parked cars at enough speed to write off the vehicle. The police say a Seat Ibiza clipped the Gallardo police car after pulling out of a gas station, sending the supercar out of control.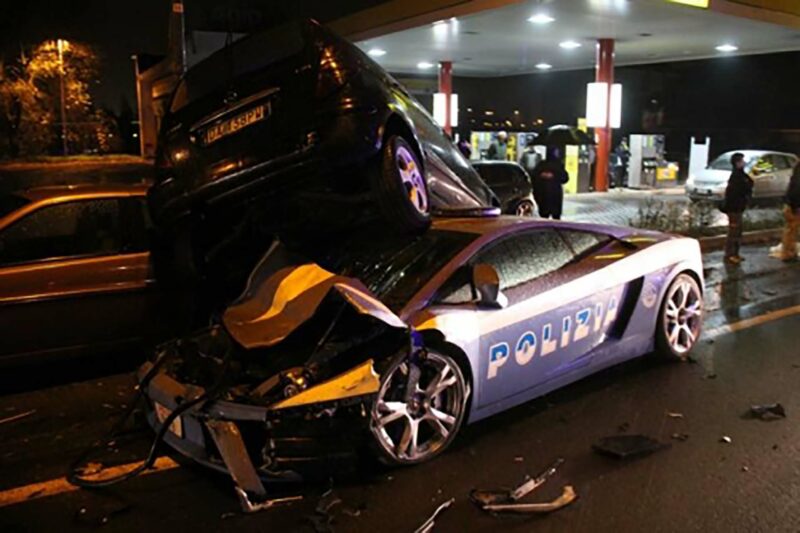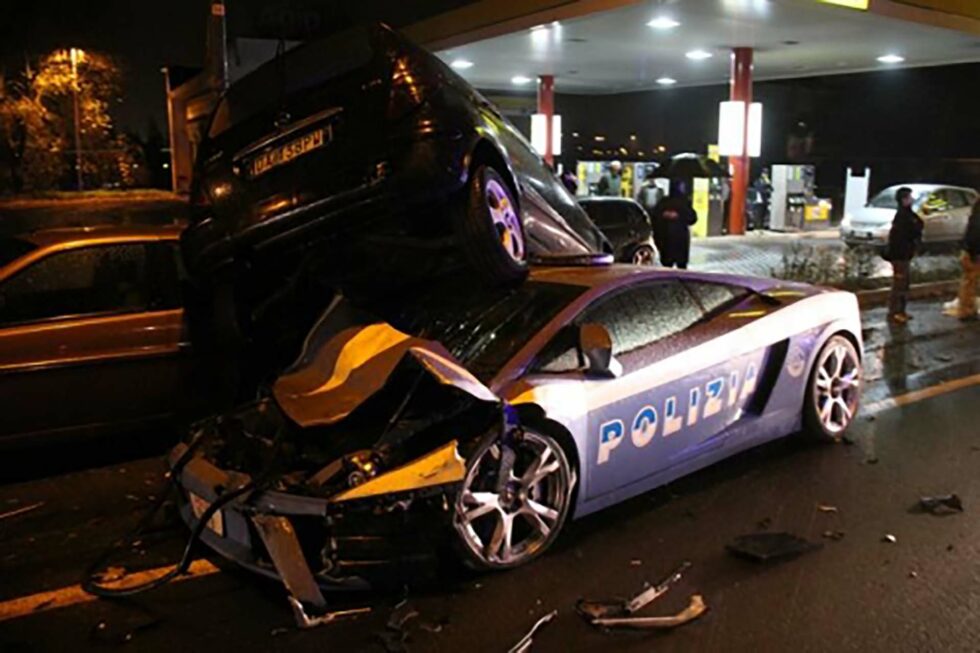 The Dubai Police Department has a Lamborghini Aventador.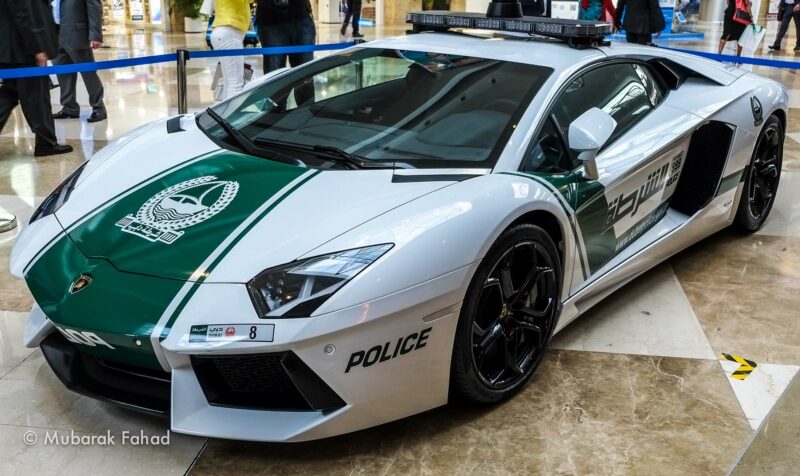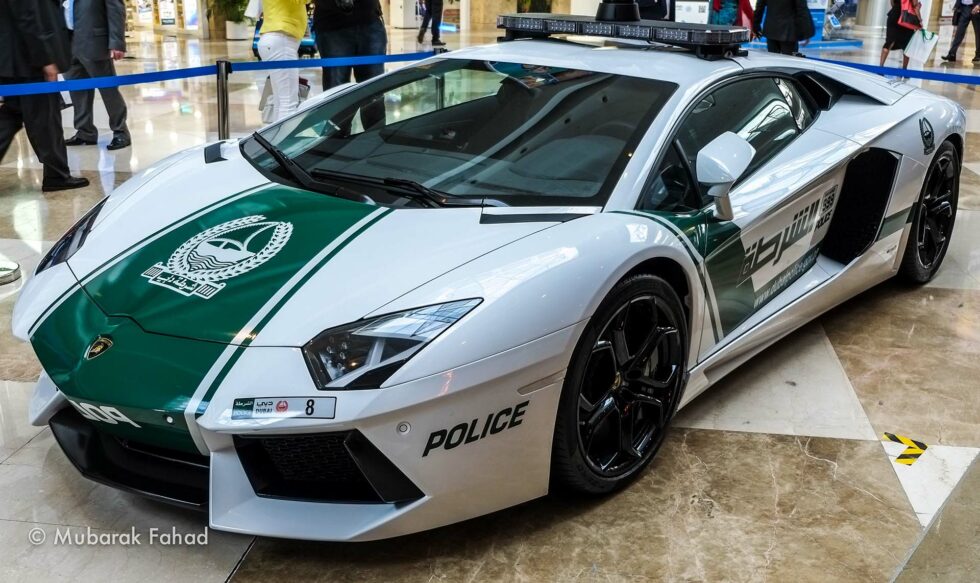 In 2013, the Dubai Police Department purchased a Lamborghini Aventador LP700-4 to join their stable of police hypercars.
The Dubai Police Department's collection of supercars includes:
Mercedes-AMG GT63 S
Maserati GranTurismo
Toyota Supra GR
Bugatti Veyron
Aston Martin One-77
Bentley Continental GT
BMW i8
Brabus G63
McLaren 12C
The Dubai police officers received special training from Lamborghini on how to handle the hypercar while driving.
The Dubai Police Department justifies their collection of supercars citing that 15% of traffic fines are for infractions at speeds over 130 mph (209 km/h). How will they pull over hypercars if they don't have a few of their own?
In reality, the Lamborghini Aventador and the other hyper police cars are rolled out for special events and displayed in important buildings. Their symbols of wealth and a show of force to the hypercar owners of the United Arab Emirates (UAE).
The Metropolitan Police Service (Of London) was lent a Lamborghini Murcielago.
The Metropolitan Police Service, the police department of London, England, was lent a Lamborghini Murcielago LP640 for display purposes. We assume the Lamborghini London dealership lent them the hypercar, similar to how they lent them Gallardos.
Unlike the Italian State Police and the Dubai Police, the London bobbies do not use their Lambos for police duties. The Murcielago is purely for show; they are taken out for public events to make the Met Police seem more fun and exciting. They have a Renault F1 car with police car graphics for this purpose. As much fun as it would be to see someone pulled over in an F1 car or Lambo…
The Metropolitan Police Service (of London) was lent two Lamborghini Gallardos.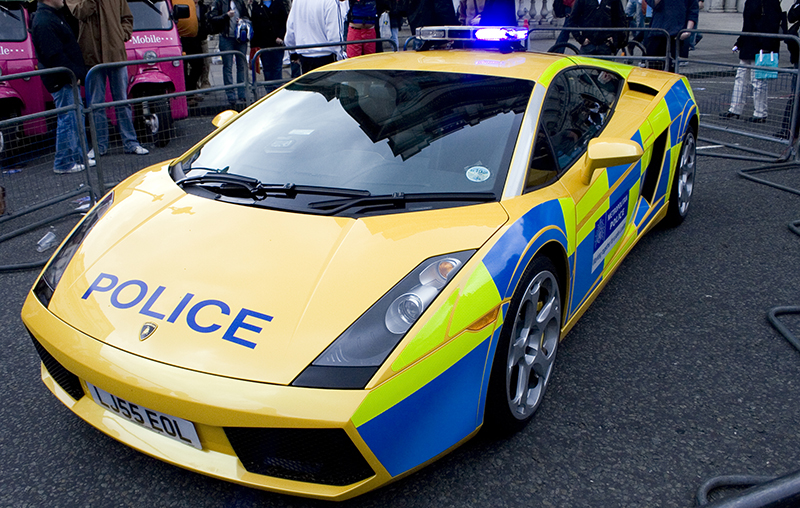 The Met Police in London was lent a Lamborghini Gallardo in 2005 and then another one in 2006. They were loaned to the bobbies by the Lamborghini London dealership.
Again, these supercars were just for public relations and not used for any active police duties. One was displayed in and drove the 2006 Gumball 3000.
We know some London police officers love the chance to bomb around in a V10 Lambo as they improperly seized someone's Huracán for the opportunity to drive it.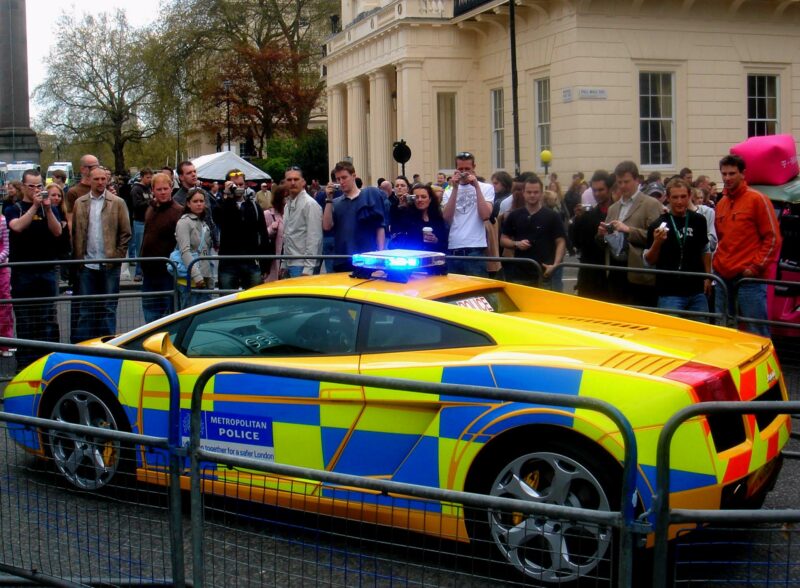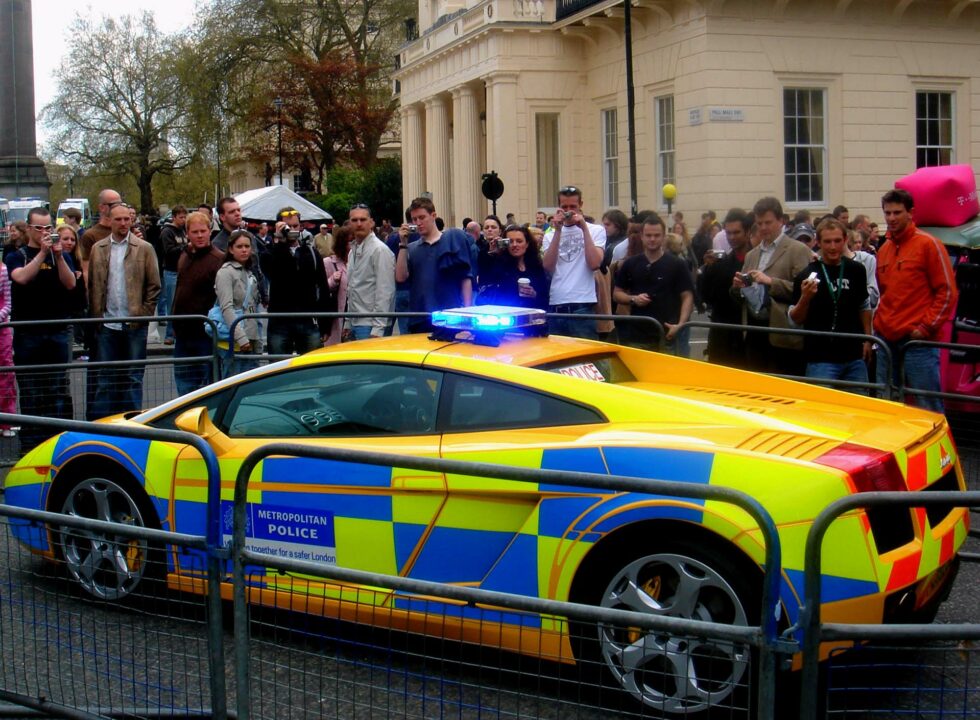 Los Angeles Police Department was lent a Lamborghini Gallardo.
The LAPD had a Lamborghini Gallardo dressed in the department's police signature black and white car livery and light bar.
The Lambo was donated by Nathalie and Travis Marg to the force specifically to be displayed with a Police helicopter by the LAPD air support team. I guess the message was: "Criminals, you can run, but you are not getting away. We'll chase you by land and air at any speed."
Qatar Police Department had a Lamborghini Gallardo.
The Qatar Rescue Police Department (Al-Fazaa) had a Lamborghini Galardo LP560-4 Police Car.
South Africa Police had a Lamborghini Gallardo.
The South African Police Service (SAPS) has an early Lamborghini Gallardo coupe. The car was part of a "Drive Safe" program, making events that teach safe driving principles a little less boring for the teens they were trying to reach.
Panama National Police had a Lamborghini Gallardo.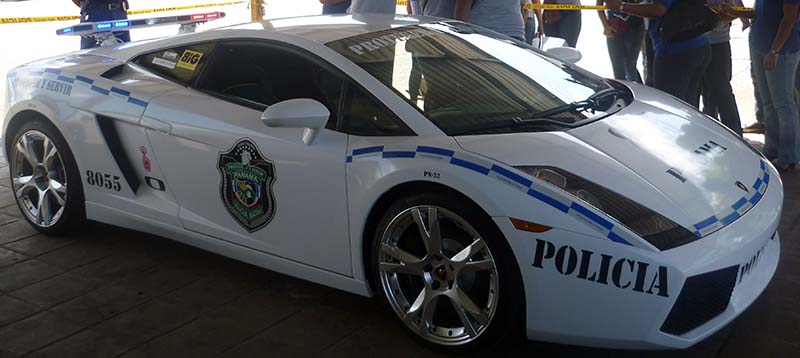 The Panamanian police had a Lamborghini Gallardo dressed as a police car.
The police seized the car from a corrupt businessman running a pyramid scheme out of Central America. The industrious police officers weren't willing to let this beauty sit in storage; they added police graphics to the V10 supercar and used it to recruit new police officers.
Frequently Asked Questions about Lamborghini Police Cars
Wondering how fast a Lambo police car can catch up to you to pull you over? Or how much departments spend on a Lamborghini Police car? Wonder no more.
How much does a Lamborghini police car cost?
Lamborghini police cars cost between $340,000 and $460,000.
Police Departments rarely, if ever, pay for a Lamborghini police car. Only the Dubai police paid for their Lamborghini from the vehicles on this list. The local dealership loans most police departments the Lamborghinis, or the cars are donated or seized.
The police department has to pay to convert it into a police car, costing approximately $70,000 for all the graphics, equipment, and installation. But most departments opt just to make it look like a police car with the lightbar and vinyl graphics, which costs approximately $3000 to design, produce and install.
How fast is a Lamborghini police car?
Lamborghini police cars can travel over 200 miles per hour. The top speed of the Italian Police's Lamborghini is 201 mph (325 km/h), and the top speed of Dubai's Lamborghini Police car is 219 mph (352 km/h).