Photo Credit: Lamborghini image by Mathias Weil. Christmas scene image by fotofabrika. Design by Colin Finkle.
The Ultimate Holiday Gift Guide for Lamborghini Enthusiasts
The allure of Lamborghini lies in its fusion of breathtaking design, raw power, and unparalleled performance. For Lamborghini owners, driving a Lamborghini is more than just transportation; it's an experience that thrills with every rev of the engine. For Lamborghini fans, it is about the appreciable craft, passion, and commitment designed into the supercars.
Lamborghini enthusiasts (like me) would love a Lambo of our own under the tree. But short of that, some great books, kits, games, and co-branded products bring that Lamborghini essence.
Of course, you can check out the official Lamborghini Store, but the items on this list (with a few exceptions) are widely available online and some in-store. (Better prices, too!)
The items range in price from $12 to thousands of dollars. There is something on a Lamborghini fan's wish list at all budgets.
Whether you're compiling a wish list or hunting for the best gifts to surprise a loved one, I've got you covered. My handpicked selection caters to all budgets, from official merchandise to coveted collectibles. Below, we have some great Christmas gift ideas.
Note: We included pricing at the time of writing, but actualy prices may vary from what's listed.
For the Collector
Diecast Lamborghini Models
Maisto Diecast 1:18 Model: Lamborghini V12 Vision Gran Turismo
Discover the thrill of Lamborghini in miniature with the Maisto Diecast Model of the Lamborghini V12 Vision Gran Turismo in 1:18 scale.
The V12 Vision isn't modeled off of a typical Lamborghini supercar. The Lamborghini V12 Vision Gran Turismo is a concept car designed in collaboration with Polyphony Digital to be included in Gran Turismo 7. A Lamborghini fan knows how special it is.
This detailed replica of the video game car captures the essence of Lamborghini Centro Stile, the style and design Lambo designers strive for. Perfect for collectors and fans alike, it features a hatch and hood that open and is a display-worthy masterpiece.
Maisto offers the model in orange, metallic blue, and matte metallic green; Lamborghini fans will appreciate the green the most as it is the modern feature color for the brand.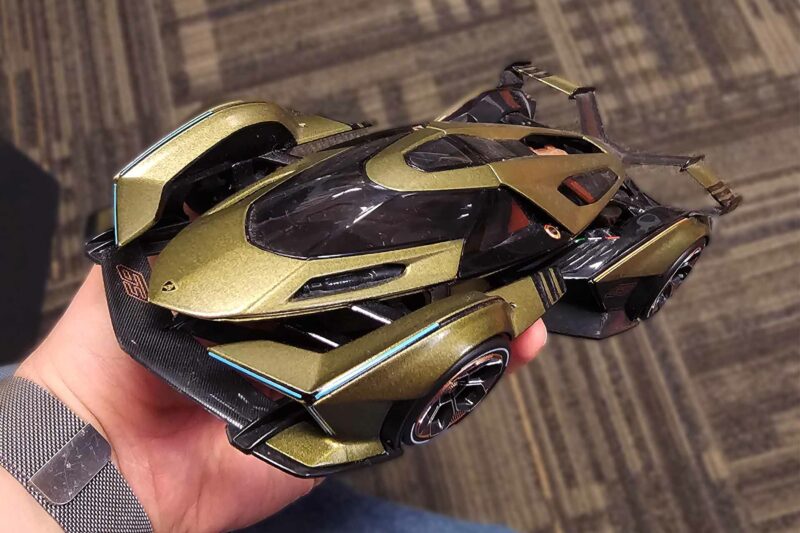 Bburago Diecast 1:18 Model: Lamborghini Sian FKP 37
Elevate a Lamborghini enthusiast's collection with the Bburago Diecast Model of the Lamborghini Sián FKP 37 in 1:18 scale.
This collector's piece, boasting stunning precision and faithful recreation of the Lamborghini's first hybrid super sports car, is a testament to the brand's fusion of tradition and innovation. The latest Lamborghini supercar, the Revuelto, is also a hybrid supercar and shares a lot of design and technology with the Sian. Unfortunately, there is no 1:18 scale of the Revuelto this holiday season, so the Sian must do.
With detailed interiors, opening doors, hood, and front trunk, it's a piece of modern Lamborghini history any fan would be proud to display. Gift the essence of speed and futuristic design with this exquisite model, a homage to the cutting-edge elegance that Lamborghini fans love.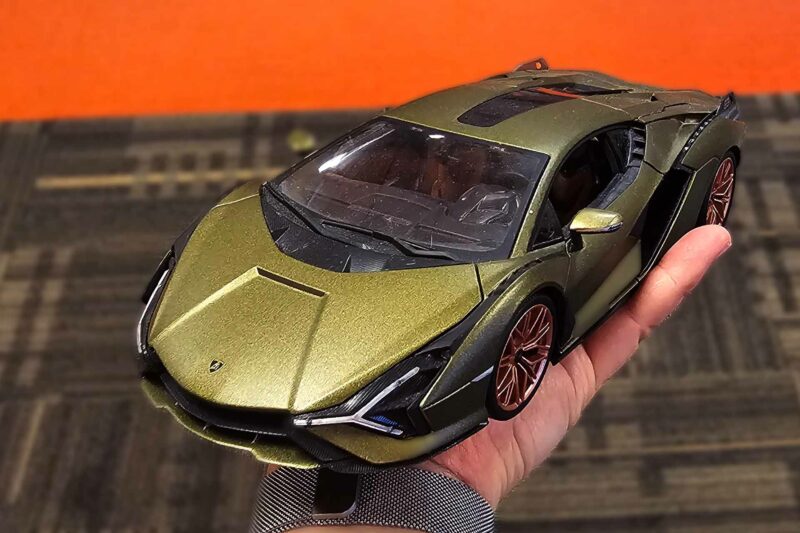 Hot Wheels Premium: Speed Machines, Lamborghini Veneno
The Hot Wheels Premium: Speed Machines take on the Lamborghini Veneno is a solid gift for the Lamborghini lover with an affinity for collectibles.
This diecast toy is the size of a regular Hot Wheels car, but far more detailed. The little red car captures the Veneno's striking aesthetics in a pocket-sized masterpiece.
It's premium priced for a Hot Wheel, but a steal considering the Veneno was one of the most expensive hypercars Lamborghini ever sold. You can play with it with the kids or display it in a case or on a desk.
You can give it as part of a set with one or all of the other cars in the limited line of Speed Machines: Porsche 911 GT3, McLaren 720S, Pagani Zonda R, and the Ford GT. Though not Lambos – a Lamborghini fan will appreciate the other cars, especially the Pagani. (My son has that one… somewhere).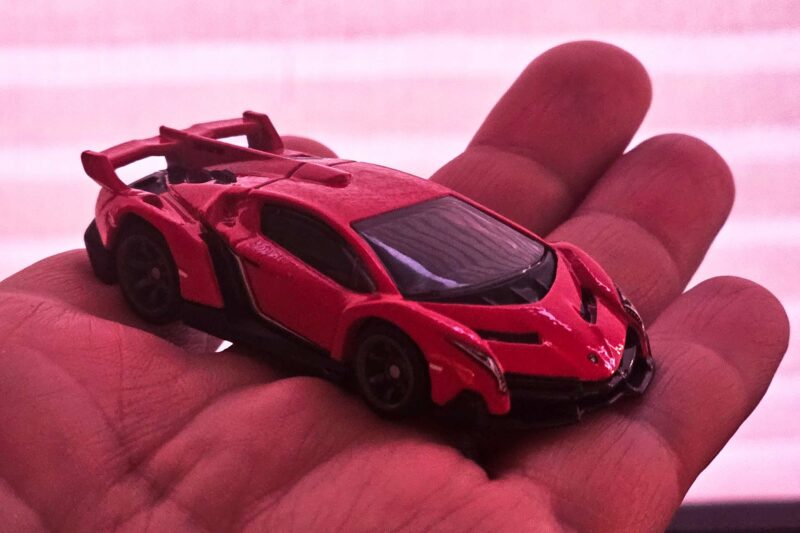 Lamborghini LEGO
LEGO Technic Lamborghini Huracán Tecnica
You or your loved one will enjoy being immersed in vehicle construction while making LEGO Technic Lamborghini Huracán Tecnica.
The Technic kit is not just a thing to have and display; buy it for the experience of constructing it and the fulfillment of seeing parts start working, like the reciprocating pistons of the simulated V10 engine.
LEGO Technic kits stand out from regular LEGO sets because construction is more challenging. LEGO says this kit is for adults and kids nine and up. Technic kits have unique pieces that create complex, functional models with moving parts. In this case, parts like the steering rack, axles, and engine parts move much like the real Huracán.
Frankly, I think the final piece is ugly; the true joy lies in the build. It's a challenging and rewarding experience, perfect for any Lamborghini fan who appreciates the process as much as the product.
I don't own this piece, but it is on my Christmas list for 2023. The Lambo enthusiast community loves the LEGO Technic Sian, a kit from several years ago. I saw a full-sized car made by Lego at the Toronto Auto Show.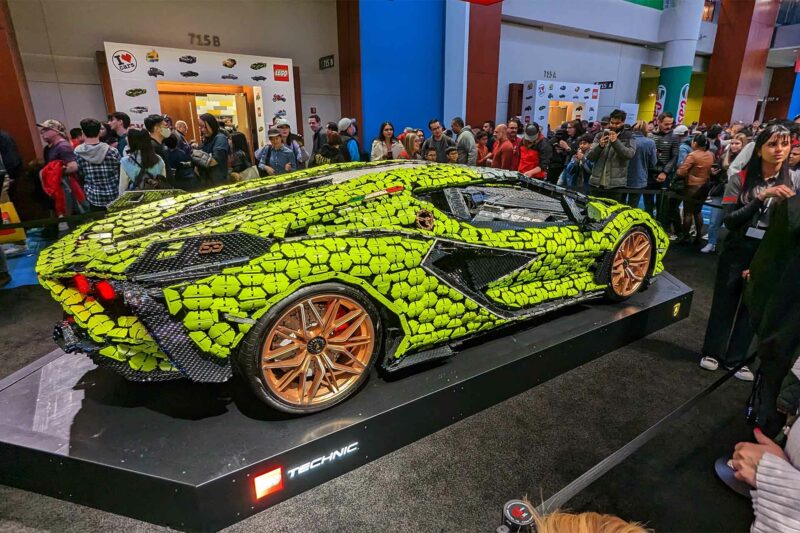 Remote-Controlled Lamborghinis
Maisto Tech R/C: Lamborghini Terzo Millenio
Frankly, I have not found an RC car modeled after a Lamborghini that is anything more than a novelty. I have owned 2, and they are fun for an hour or so. But you can exhaust all the fun things to do with them quickly, and then they are just a hunk of plastic – not display-worthy.
I have high hopes for the Maisto Tech R/C: Lamborghini Terzo Millenio.
Maisto has a reputation for quality. The RC is 1:24 scale and 2.4 GHz; it has decent power and a tight turning radius. It should be fun.
But even if the fun doesn't last, you get to display a piece of Lamborghini history. The Terzo Millenio was a concept car that marked a new direction for Lamborghini regarding styling and technology. The tri-spoke light and electrified powertrain of the TM are now in Lamborghini's halo car: the Revuelto.
For the Reader
History Book
Lamborghini 60 Years by Stuart Codling
"Lamborghini 60 Years" by Stuart Codling is a vibrant journey through the illustrious history of the iconic Lamborghini brand.
This large, full-color book is a treasure trove of photography, tech specs, and the stories behind the cars. It's an ode to six decades of speed, style, and innovation; the stories highlight both the good and bad. For example, did you know that the original engineer of the Lamborghini V12 had to take the company to court to get paid? I didn't know that until I read it in this book.
A Lamborghini enthusiast would be happy to have it around to leaf through on a Sunday or read it cover to cover. It can be a coffee table book or a reference book on a bookshelf.
I wish it had some talk about the Revuelto – it was published before the Aventador was sunsetted. The 60th anniversary came a little too early!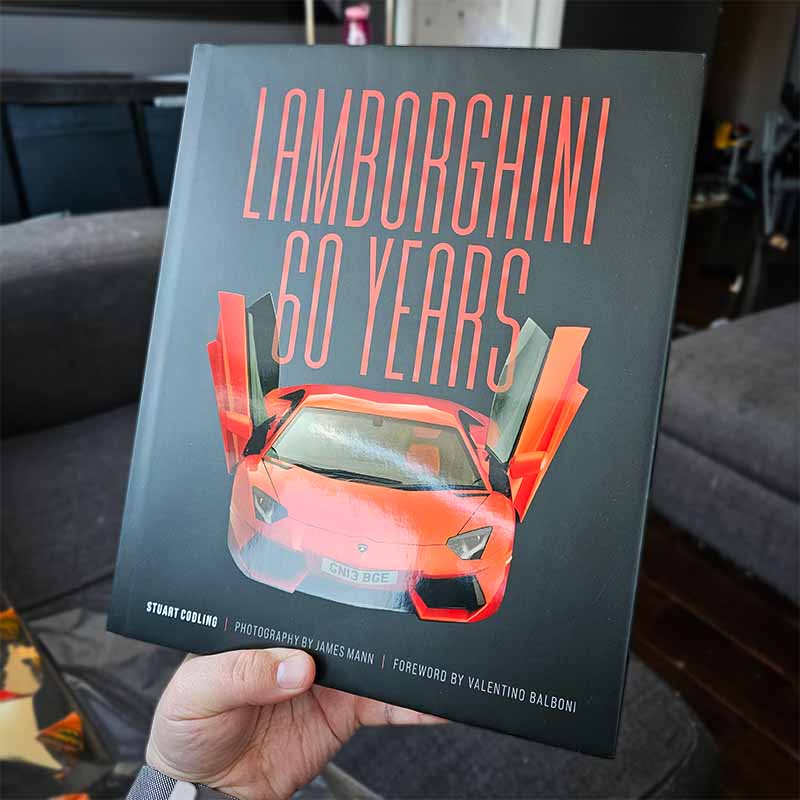 For the Pro Driver
Driving Shoes
Sparco USA Martini Racing Top Shoe
Step into high-speed racing with the Sparco high-top racing shoes, styled after the iconic Martini Racing team.
For the Lamborghini fan, these shoes are more than footwear; they symbolize racing heritage and performance.
While not a directly a Lamborghini product, any Lamborghini enthusiast appreciates the speed, heritage, and style of the Martini Racing livery. Their distinctive Martini Racing design pays homage to a legendary era in motorsport car guys know well.
These shoes are FIA-certified, so your loved one can use these driving shoes on the track. Or they can drive around with them and feel like a pro racing driver.
For the Gamer
Lamborghini Laptop
RAZER BLADE 16 X AUTOMOBILI LAMBORGHINI EDITION
I sit and drool over the Razer Blade 16 x Lamborghini Automobili Edition laptop, a top-tier piece of technology that's as high style as much as high performance.
Like a Lamborghini supercar, this laptop is a limited edition: only 150 worldwide. This gaming laptop features the best NVIDIA® GPU and Intel® CPU available for laptops, ensuring blazing-fast speeds. The 4K dual-mode mini-LED display delivers stunning visuals, while the custom CNC-milled aluminum chassis echoes Lamborghini's sleek design.
It's not just a laptop; it's a statement of luxury and power, making it an ideal gift for fans who demand the ultimate performance and style.
The Razer Lamborghini laptop would be great for a Lamborghini owner who only accepts the best or someone who aspires to have something as exclusive as a hypercar.
Lamborghini Gaming Chair
Secretlab TITAN Evo, Lamborghini Automobili Edition
Whether you or your loved one is a Lambo owner or dreams of being in a Lamborghini cockpit, the Lamborghini Automobili edition of the Secretlab TITAN Evo is an excellent addition to their office or gaming room.
It is a premium gaming chair, upholstered in suede and with details referencing the Lamborghini supercar design. The chair has a Verde (green) logo and accents and stitched hexagons, tri spokes, and angled lines – elements right out of a Lamborghini designer's playbook. And the tricolor line, as a nod to Italy, is a great finishing touch.
It's a seat that elevates their gaming setup and serves as a daily reminder of the adrenaline-pumping joy that Lamborghini stands for, making it a must-have for enthusiasts who demand the best in gaming and automotive excellence.
Secret Lab is taking pre-orders and will hopefully be shipping on December 21, so this may not be ready for Christmas.
Racing Simulators and Games
Asetto Coursa Competizione
Assetto Corsa Competizione for PS5, Xbox One, or PC is an ideal Christmas gift for a Lamborghini enthusiast because it offers an immersive and realistic driving simulation experience.
Assetto Coursa is a sim racer. A sim racer is a type of racing game that provides a realistic auto-racing simulation. They prioritize accurate physics, lifelike driving conditions, and vehicle handling. These games aim to closely mimic the experience of driving real racing cars on actual race tracks so Lamborghini fans can feel what it is like to race a Lamborghini without the expense or risk.
The game features the Huracán GT3 EVO, Huracán Evo GT3 EVO2, and Huracán EVO ST, allowing fans to experience these iconic supercars and their unique driving dynamics virtually.
Forza Horizon Motorsports 8
Do not buy if your loved on has a Xbox Game Pass subscription! They already have access to it.
"Forza Motorsport" (2023) for Xbox One or PC is an excellent Christmas gift for a Lamborghini enthusiast. It includes all the Lamborghini models you could ask for, perfect sound, highly detailed graphics, and (relatively) realistic driving physics.
I have been playing this game nonstop since it came out. While it has taken some criticism for the physics compared to other sim racers, the graphics and sounds are next level. The perfect sights and sounds offer a virtual gateway for fans to experience the thrill of racing Lamborghinis on a track. Both Lamborghini and Turn 10 studio appreciate the multi-sensory driving experience.
If you or your loved one is not serious about racing but wants a good time – try Forza Horizon 5. It came out several holiday seasons ago but is still a blast.
For the Adventurer
Voucher for Exotic Car Rental
Exotic car rental businesses offer the opportunity to rent Lamborghini supercars for flexible durations, including for a day or even an hour. This service allows enthusiasts to experience driving a Lamborghini without the cash, maintenance, and storage required to be an owner.
A voucher for a Lamborghini rental experience is the perfect Christmas gift for a Lamborghini enthusiast.
A driving experience voucher is a ticket to allow them to savor the raw power, exceptional performance, and luxurious feel of a Lamborghini firsthand, an opportunity many dream about, but few realize.
It's more than just a drive; it's a chance to feel the Lamborghini driving experience, even if just for a day, making it an unforgettable gift. It's a taste of the lifestyle of a Lamborghini owner.
I have not rented a Lamborghini, but six years ago, I had the experience of a lifetime. My wife bought me a voucher to rent an Audi R8 V10 (sister car to the Lamborghini Gallardo) from Ultimate Exotics in Stoney Creek, Ontario.
The experience was nothing like I had imagined – far more raw and a whole sensory experience. It sparked my love of supercars, so my wife's gift might have resulted in this blog!
Conclusion
As we conclude our journey through the ultimate Lamborghini gift guide, we hope you've found the perfect item to ignite the passion of the Lamborghini enthusiast in your life.
From thrilling rental experiences to exquisite scale models, each gift will fan the flame of a Lamborghini enthusiast's love of supercars.
Remember, whether it's a small token or an extravagant gesture, the joy lies in celebrating the spirit of Lamborghini. Happy gifting, and may your holidays be as fulfilling and enjoyable as a ride in a Lamborghini!