Rendering by DigitalStorm via Adobe Stock. Photoshop by Colin Finkle.
Lamborghini tried competing in Formula 1 with bad results, and you will not see them return to F1 in the future.
To most people, it seems natural that Lamborghini would have a Formula 1 racing program. They sell fast cars with high-tech, powerful engines. Lamborghini is similar to Ferrari, and people associate Ferrari and F1 after 70 years of competition.
But surprisingly, Lamborghini does not compete in Formula 1 nor has any plans to in the future. So why doesn't Lamborghini have an F1 team?
Lamborghini's parent company, Volkswagen AG, now have other brands involved in F1. Porsche it set to become the engine manufacturer for multiple teams and Audi will have their own team.
Lamborghini did try racing in F1 for a few years in the early 90s, but it did not go well. With the other VW brands in F1, the executives are not going to give Lamborghini another shot.
In this article, we will explore Lamborghini's history with Formula 1 and then go into the reasons why there are no plans to get back into F1.
Has Lamborghini ever had an F1 team?
Lamborghini has never had a factory Formula 1 team. They were an engine supplier from 1989-1993 and developed a car that ran in the 1991 F1 season under a different name, Modena.
Lamborghini's F1 Engine Program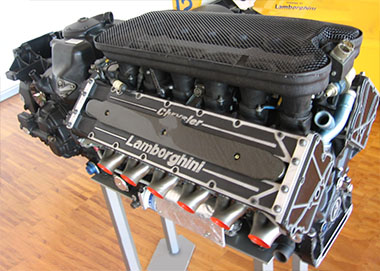 In 1989, Lamborghini saw an opportunity to start making engines for Formula 1 when the governing body, the FIA, abruptly banned turbochargers, and all teams had to adapt quickly. The company engineered the Lamborghini LE3512, an 80° V12 naturally aspirated engine. The motor competed with engines from Ferrari, Honda, Ford, and Renault.
The engine and the F1 team who used it never did very well; its highest finish was 3rd. Lamborghini, then owned by Chrysler, expected a slow start, so they worked with a mid-tier team at first.
Plagued with unreliability and lousy press, Lamborghini dropped the program after the 1993 season.
Lamborghini's F1 Car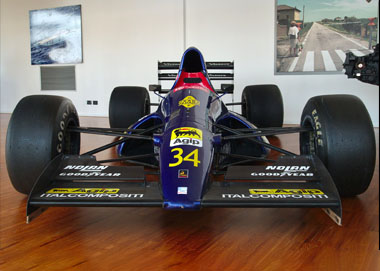 Lamborghini's and Chrysler's executives wanted a chassis to pair with its existing Formula 1 engine. They poached Mauro Forghieri and Mario Tolentino from Team Ferrari to put together the race car.
In a bizarre move, the executives chose not to put the Lamborghini name on the team even though it had a Lamborghini-developed engine and chassis. Unwilling to call a spade a spade, the executives didn't want the Lamborghini name on the team because they expected poor results in their first season and didn't want those results to reflect poorly on the brand.
Instead, the team was named "Team Modena" after the city in Italy and competed in the 1991 season. The team started strong with a finish of 7th place. At another race in Imola, they almost placed 5th but dropped to 7th on the last lap because their fuel pump started having issues.
After those surprising results, the team struggled to even qualify for races. Chrysler executives discontinued the program after one season.
Why doesn't Lamborghini compete in F1?
There are many reasons Lamborghini does not compete in Formula 1.
The company has never cared about motorsports.
Every choice Lamborghini makes is in favor of a fast, stylish, fun-to-drive street car. They are not (and have rarely been) in the business of making race cars.
Sure, Lamborghini makes cup-racing cars and track ready versions of their cars like the Huracan STO. But that is because their customers demand the ability to compete on the track.
Ferruccio Lamborghini founded Lamborghini after being dissatisfied with his Ferrari. He felt his Ferrari 250 GT was a race car thinly disguised as a road car, and Ferrari's engineers made too many compromises to the driving experiences to make it fast on the track. Famously, he got into a big Italian argument with Enzo Ferrari over the clutch in his 250 GT.
Ferrucio Lamborghini's vision was for a fast and comfortable exotic car, or what we would now call a grand touring car. From the Countach onwards, the vehicles look like race cars to the average person, but that is more about style and prestige than all-out speed.
They worried about the brand image of Lamborghini.
Competing in Formula 1 would mean losing… a lot.
Formula 1 programs need season after season to build the organizational knowledge to be competitive, let alone find the innovations that could put your engines and cars on top. It will also take years to attract top talent, so the team would have years of mid-tier and rookie drivers.
Lamborghini has a brand known for fast cars. Having motorsports enthusiasts, the core of the market, seeing them on the bottom of the scoreboards and sports media broadcasting their failures would harm the brand.
When they decided to get Lamborghini into Formula 1 in the early 90s, Chrysler executives understood this risk. They decided to name their factory team "Modena" rather than Lamborghini, even though it had a Lambo engine and chassis.
They don't want to appear less than Ferrari.
Car people know Lamborghini and Ferrari are distinctly different, but most people view them as equivalent. "They both make fast, expensive sports cars." Despite their fastly different histories and strategies, the two brands command roughly the same amount of money for their vehicles.
Ferrari has been competing in Formula 1 since 1950 and has earned 16 world championships. There is no doubt a new Lamborghini team (or any new team) would lose to Ferrari.
If they were to compete, as soon as Lamborghini starts losing to Ferrari, then the narrative "Ferraris are faster than Lamborghinis" will take root. That cuts directly against the Lamborghini brand image, and the prices of the cars would have to be less than Ferrari.
It costs hundreds of millions of dollars in investment to compete in Formula 1.
Whether a big brand decides to grow a Formula 1 engineering program (as Lamborghini did in the early 90s) or buy an existing team, it takes hundreds of millions of dollars of investment to become competitive.
"Traditionally, F1 giants such as Ferrari and Mercedes spend the most, with cost estimates over $400 million [per in development and construction]." The Sports Rush.
Considering Lamborghini produces 7000-8000 vehicles per year, an F1 program would be 1/5th of the brand's revenue. It just doesn't make sense as an investment.
Volkswagen AG, Lamborghini's parent company, have a team under Audi and an engine manufacturer under Porsche.
Volkswagen Auto Group owns the brands:
Lamborghini
Volkswagen
ŠKODA
SEAT
CUPRA
Audi
Bentley
Ducati
Porsche
Of those brands, two are already involved in Formula 1: Audi and Porsche.
Audi has started their own formula 1 team. The factory team will compete with other branded F1 teams such as Ferrari and McLaren.
Porsche are going to be one of the manufacturers building their version of the 1.6L Turbo V6 Hybrid engine powering F1 cars in 2026 and beyond. They will supply this engine to teams like Red Bull Racing.
It would not make sense for Volkswagen Auto Group to have Lamborghini compete against Audi and Porsche in Formula 1. They may not have their brand winning, but they'd be guaranteed to have one of their brands loosing. VW AG has structured their investment so Audi and Porsche are not directly competing.
Conclusion
Lamborghini is going fine without a Formula 1 team.
We can speculate on many reasons Lamborghini wouldn't want to get into Formula 1 (the company heritage, losing to Ferrari, VW's entering Audi and Porsche, etc.) But the truth is that Lamborghini does not need to compete in Formula 1 to sell cars at a high margin and maintain the perception that they are ridiculously fast.
Lamborghini's brand has never been more prestigious. The market is increasing the demand and thus the prices for all Lamborghini, new and collectible. The demand for any vintage Lambo is hot right now.
Lamborghini does not need to make any aggressive investments or take on any unnecessary risk to win in the market right now. The brand doesn't need the exposure or the racing pedigree that would come with competing in F1.