A Hybrid Supercar Designed to Strike Like Lightning
About the Sián
The Lamborghini Sián FKP 37 is a limited-run supercar with a mild hybrid system. It debuted at the 2019 Frankfurt Motor show.
The Sián makes 819 hp through a unique powertrain. It was the fastest Lamborghini ever produced at the time. The Sián accelerated to 62 mph (100 km/h) in 2.8 seconds and to a top speed is over 218 mph (350 km/h).
The hybrid system adds only 34 horsepower but improves the cars throttle response and accelerates through the gear changed.
Lamborghini is the first to use supercapacitors in a production car instead of a battery. The capacitors are fully charged every time the brakes are applied.
Model Information
| | |
| --- | --- |
| First Model Year | 2020 |
| Last Model Year | 2022 |
| Engine Type | V12 + Electric |
| Induction | Naturally aspirated |
| Drivetrain | AWD |
| Layout | Mid-engine |
| Engine Orientation | Longitudinal |
| Body Style | Coupé |
| Number of Doors | 2 |
| Number of Seats | 2 |
| Front Suspension | Push-rod |
| Rear Suspension | Push-rod |
| Steering Type | Rack and pinion |
Video
Hybrid Powertrain
The Sián is a hybrid; engineers combined the classic, naturally aspirated Lamborghini V12 with an electric motor powered by supercapacitors. The low-voltage motor and supercapacitors were made to be light; the whole system only adds 34kg.
The 48-volt motor in the transmission only adds 34 horsepower but improves throttle response and handles low-speed maneuvering like parking or reversing. The electric motor continues accelerating even when the V12 engine is changing gears.
Supercapacitors are lighter than batteries used in traditional hybrid powertrains. The supercapacitors are stored between the cockpit and the engine. The supercapacitors are fully charged every time the Sián slows down through regenerative braking.
Design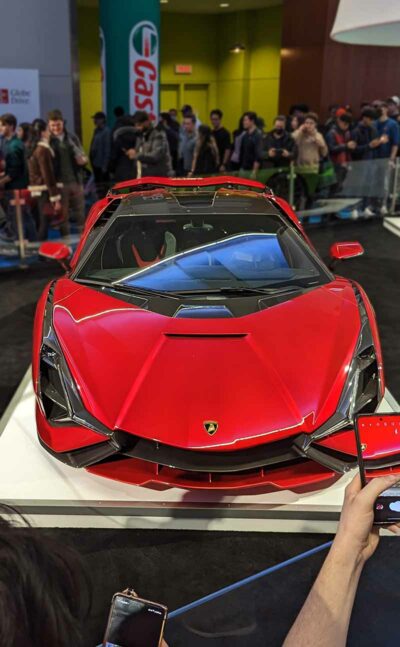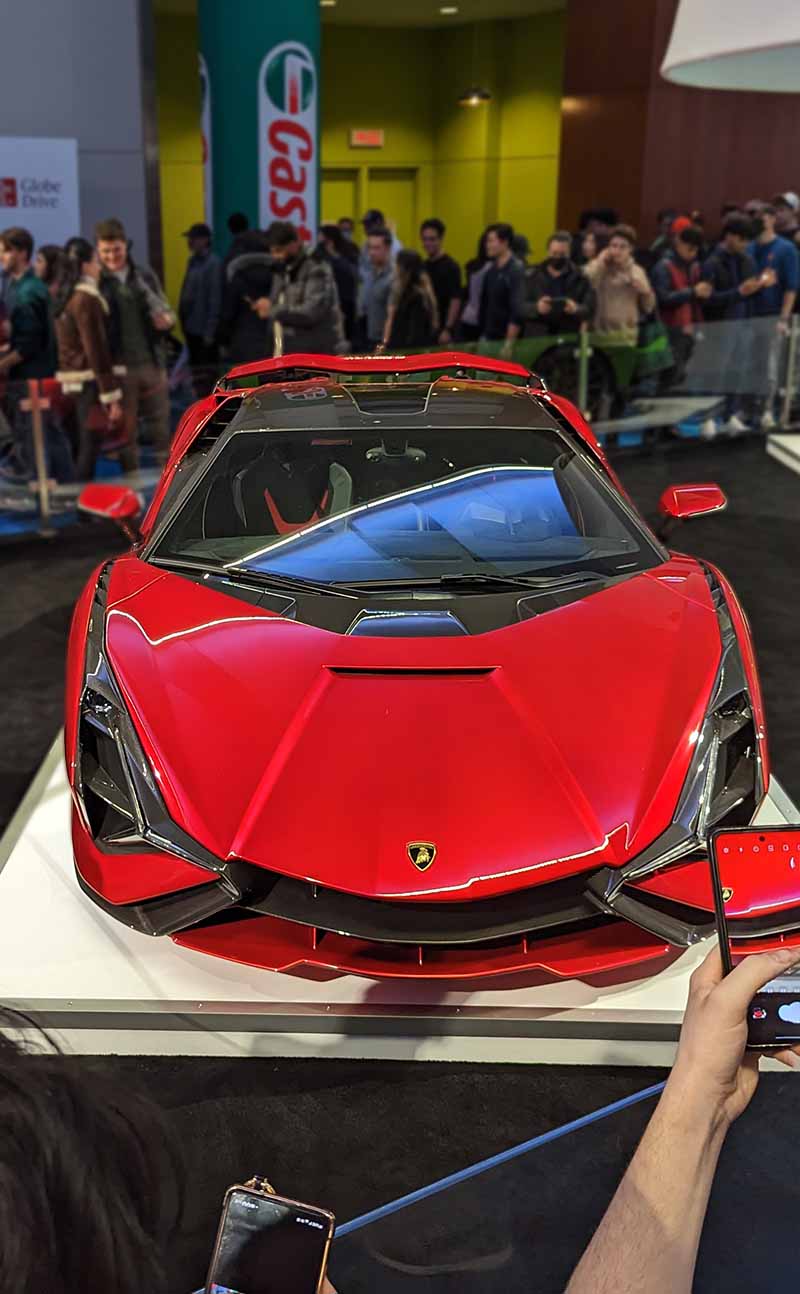 The design of the Sián is complicated but cohesive. Aerodynamic fins and an active spoiler try to control the air around the car.
The Y-shaped headlights are a modern piece of Lamborghini Centro Stile design language. We first saw them on the Terzo Millennio concept car and were eluded to in the shape of the ducting on the Huracán Tecnica.
Cooling ducts open when heat is applied from the exhaust to the materials on the rear end of the Sián.
Trivia
The Sián name means "flash or lightning."
Sián means 'flash or lightning' in the Bolognese dialect (a classic language spoken in a part of Italy), departing from the convention of Lamborghini models being named after Spanish fighting bulls.
Pop Culture
LEGO Sián kit and full size car.
LEGO sold a 2696-piece Technic kit to make the Lamborghini Sián FKP 37. To promote this kit, they made a full size Sián made entirely of LEGO (except the wheels.)